Patch 2.5.2 introduced another feature for The Burning Crusade Classic, the group search.
Just like in the original release of The Burning Crusade, the Looking for Group interface (default hotkey: I) can be accessed through a new icon on your action bar, next to the Social button. This will open a window that prompts you to indicate whether you want to start a group or join one that's already in the process of being assembled. Depending on your selection, either the "Looking for Group" or the "Looking for More" interface appears next. Both interfaces have tabs at the bottom that let you easily switch between the two.
This time the Looking for Group tab allows both solo players and parties to list themselves for up to three activities of their choosing, unlike the original tool that was only usable by solo players. You can select activities like Dungeons, Raids, Zones (for group questing), Heroic Dungeons, Battlegrounds, and Arena.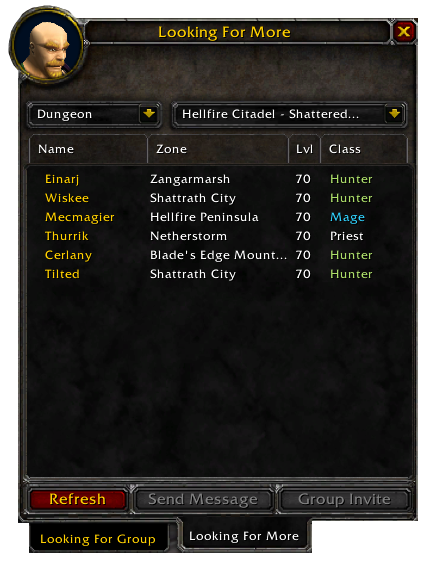 The Looking for More tab allows a solo player or partial group to browse for additional members to complete a group. Select your desired activity from the drop-down menus (for example if you need a few more players to round out your Karazhan run, select "Raid" and then "Karazhan") to see players who have listed themselves for that activity. Zone, level, and detailed party member information are included in there for you as well.
From there the group leader can click on a player's name to invite them to the group or send them a message. You can also click "Refresh" to browse new player listings.